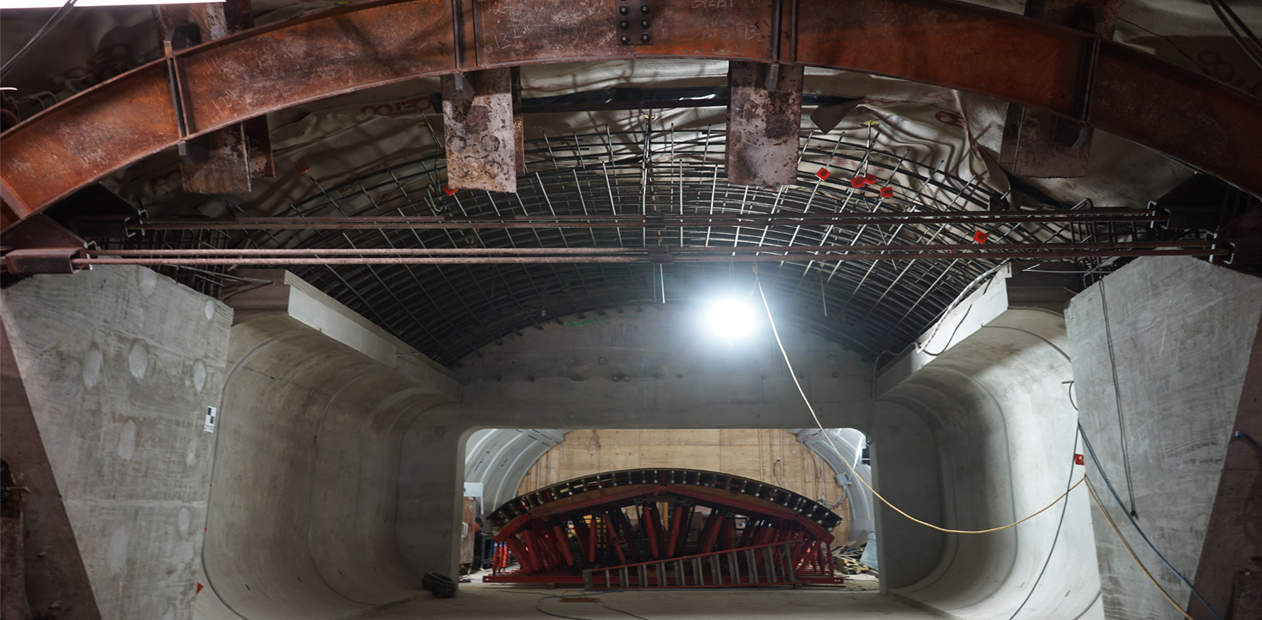 WMATA NIH Medical Center Station
Maryland Route 355 (MD 355) is a heavily trafficked road in central Maryland that passes the National Institutes of Health (NIH) and the Walter Reed National Military Medical Center. At this location is an important Washington Metro Rail Station that had an at-grade pedestrian crossing that was dangerous to navigate. To mitigate the at-grade crossing issues, the project included a pedestrian underpass below MD 355, new deep high-speed elevators and emergency stairs, and a new deep tunnel connection between the new elevator and the existing Metrorail tunnel. The project improved access to the Metro Station and eased the mobility and safety of pedestrians and bicyclists crossing MD 355. MRCE was the foundation engineering design consultant to the Design/Build team providing design of the monitoring program, support of excavation in rock, the shaft liner and passageway liner, the drainage system, and the framing for the opening in the existing tunnel liner. MRCE also reviewed the existing tunnel for impact of construction including PLAXIS numerical modeling, provided construction inspection and construction support services.
Interesting Facts
• The NIH Medical Center station is on the Red Line, part of Washington Metro's original 103 mile subway system. From 1966 on, MRCE was the General Soil Consultant for WMATA for the original system, providing complete geotechnical investigations, evaluation of construction conditions, and establishing design criteria for the entire line.
• MRCE regularly works on WMATA projects, mainly providing evaluation of new construction located over and adjacent to the shallow and deep tunnels of the Metro lines.