Instrumentation
MRCE draws on an understanding of soil mechanics theory and construction methods to design practical construction monitoring tailored to subsurface conditions and the planned construction. MRCE designs state-of-the-art instrumentation systems for monitoring ground performance and the influence of construction on adjacent buildings, subway tunnels, historic/landmark buildings and transportation structures. MRCE provides complete turn-key geotechnical instrumentation and monitoring services from inception to completion, including the initial project specific monitoring plan, pre-construction condition surveys, installation, and interpretation of data. MRCE often automates the monitoring data collection and plotting display to make data readily available to client and engineer alike through a password protected dedicated website. MRCE instruments with automation reduce labor cost, provide visual presentation of data in a timely manner, and can prevent costly damage.
Condition surveys

When construction is adjacent to existing buildings, MRCE engineers perform a pre-construction survey to document existing conditions. The records from the condition survey are used to assess property damage after construction and resolve claims. Our geotechnical expertise and familiarity with construction methods enables MRCE engineers to tailor pre-construction condition inspections to the construction activity and the potential impact on our clients' structures.

Protection of adjacent structures

MRCE's geotechnical and foundation experience is used to develop site specific monitoring plans meeting project demands and regulatory controls such as the NYC Building Code and Technical Policy Procedure (TPPN 10/88). The technologically advanced instrument systems installed by MRCE monitor construction vibrations and movement of landmark buildings and adjacent structures.

Subway and transportation monitoring

MRCE has extensive experience in design, installation, and monitoring of vibration and deformation monitoring systems in subway tunnels and stations to measure the influence of adjacent construction on these critical facilities. Working off hours to minimize service disruptions, MRCE has developed innovative installation methods for instrumenting subway tunnels to provide efficiency and economy for our clients.

Geotechnical instrumentation

Our advanced knowledge of soil mechanics theory and foundation construction methods allows MRCE to properly define monitoring needs and select appropriate instrumentation to provide engineers and contractors with the data they need to confirm design performance and assess the influence of construction means and methods on surrounding structures. Geotechnical instrumentation includes vibrating wire piezometers, inclinometers and tilt sensors, extensometers, load cells and earth pressure cells, strain gages, crack gages, and temperature sensors. Using data acquisition systems and connecting these instruments to our website provides timely information for engineering decision making, saves labor effort, and reduces cost. The continuous collection of data over a short period of time often enables superior interpretation of geotechnical conditions compared to old-fashioned intermittent instrument readings.

Vibration and sound monitoring

One of the major impacts of construction is the cumulative effect of vibrations on adjacent buildings. MRCE maintains a large inventory of vibration monitoring equipment which can be installed to evaluate impact of vibrations on buildings and landmark/historic structures adjacent to rock excavation, blasting, pile driving and other heavy construction activities.

MRCE provides onsite and remote sound and vibration monitoring by engineers experienced in geotechnical engineering and urban foundation construction, with ability to evaluate data and interpret results.

Automated total station optical monitoring

Many building codes such as the NYC Building Code (Section 3309) specify monitoring requirements for protection of buildings adjacent to excavations and foundation construction. Typically optical survey monitoring is required to record vertical and lateral movement of adjacent buildings during shoring installation, excavation and foundation construction.

Traditional manual surveys to monitor adjacent structures over many months can be costly and susceptible to error. MRCE's automated robotic total station systems can provide significant cost savings with the ability to report data faster and more accurately.
---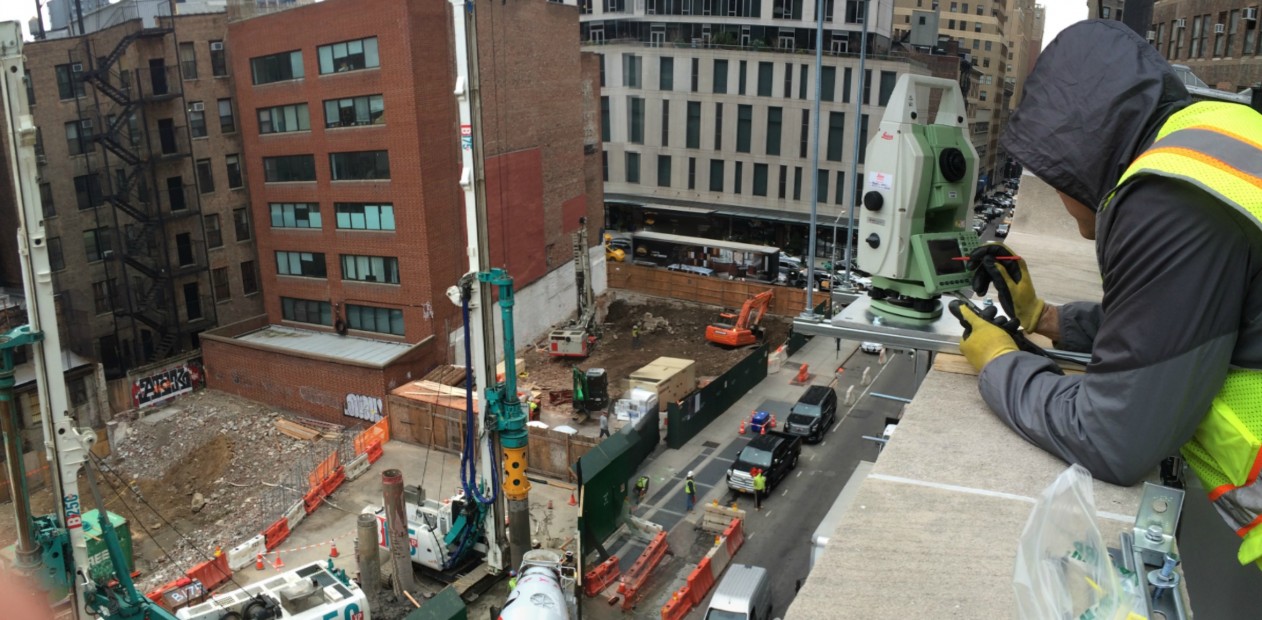 Virgin Midtown Hotel
Challenges Solved
MRCE provided geotechnical instrumentation and monitoring for development of a new 42-story hotel tower including three basement retail levels extending 50 feet below existing grade. An automated instrumentation program was designed and installed by MRCE to remotely monitor and collect data related to vibrations and movement of adjacent buildings and NYC Transit structures during secant pile drilling at the site perimeter. Automated monitoring of adjacent building movements coupled with the ability to view data online provided a powerful tool to manage the secant pile drilling. The system provided "real time" early warning, allowing drilling modifications to prevent damage of the adjacent buildings. Monitoring data was made available to the owner and contractor through the password protected MRCE instrumentation website.
---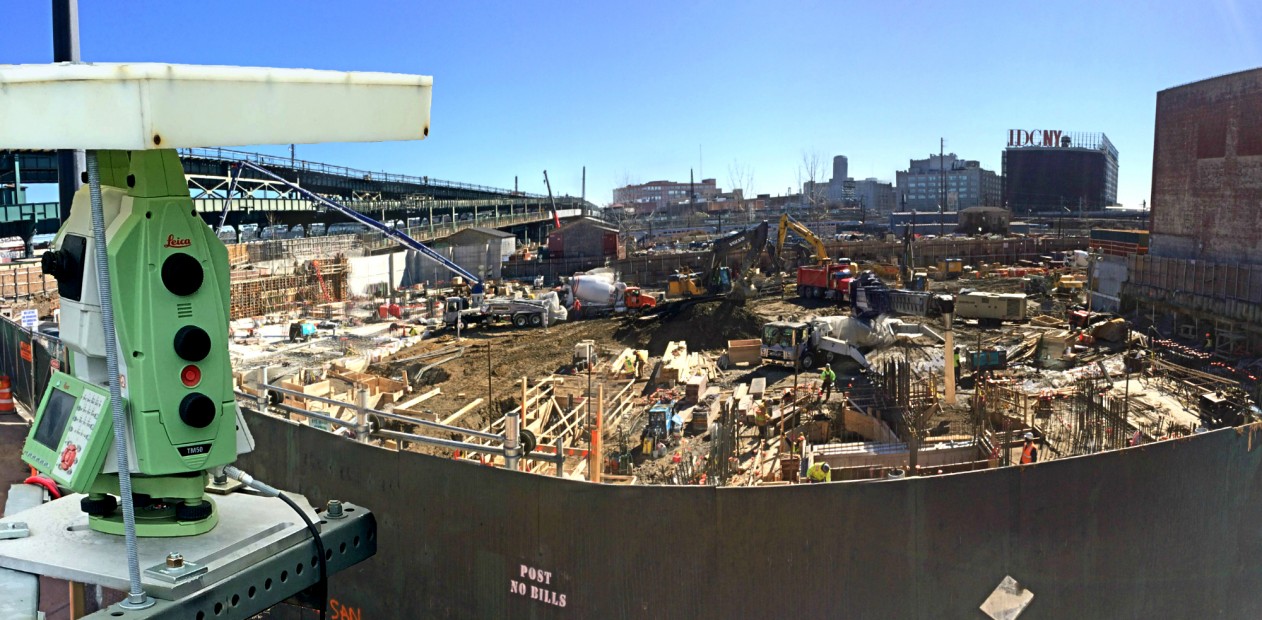 Queens Plaza Redevelopment
Challenges Solved
In addition to temporary excavation support, foundation design, and construction inspection services for three new high-rise buildings, MRCE provided instrumentation and monitoring of sensitive NYC Transit structures including a substation, a tunnel, an elevated viaduct, and a bridge abutment. MRCE designed and installed automated instrumentation to monitor vibrations and movement of adjacent structures during installation of soldier and secant piles at the site perimeter. Due to the size of the development and the presence of the substation building, several automated motorized total stations were utilized to monitor deformations continuously. All instruments had remote communication for automated "real time" data uploads to the MRCE Instrumentation website. The instrumentation portal was viewed on mobile devices by the owner, contractor, and site project personnel.