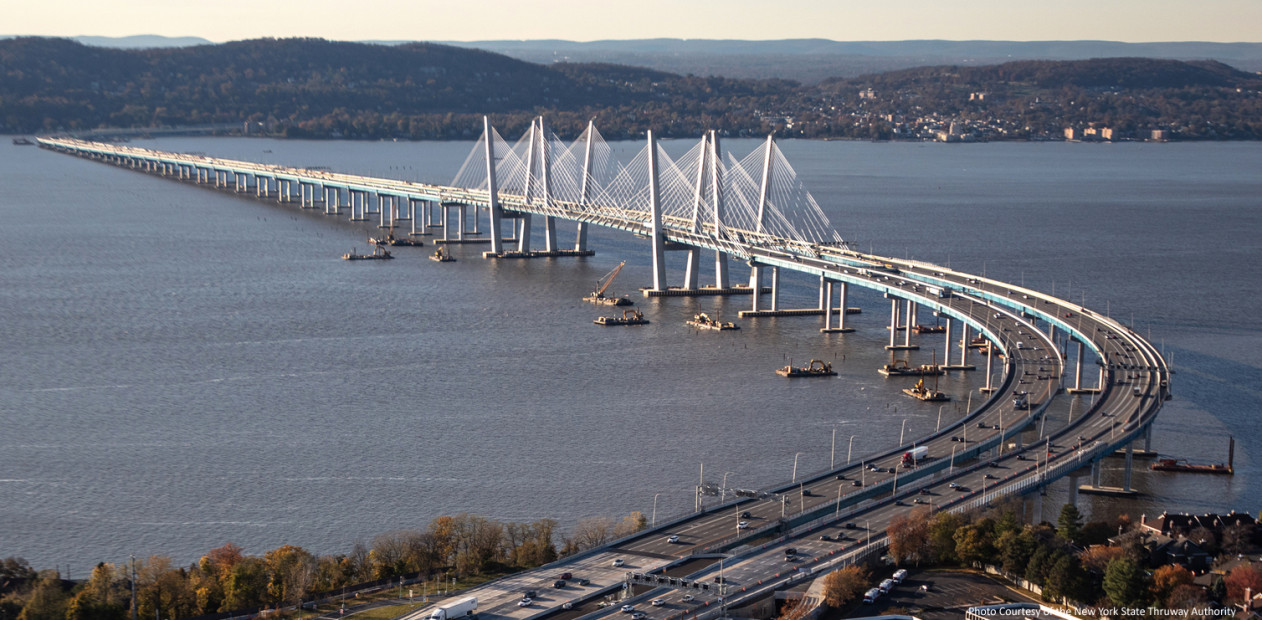 Governor Mario M. Cuomo Bridge
In 2018, the new Governor Mario M. Cuomo Bridge opened. Constructed adjacent to the former Tappan Zee Bridge, the bridge that it replaced, the new 3-mile crossing over the Hudson River connects Rockland and Westchester Counties. Site subsurface conditions were extremely challenging, with a rock profile that extends deeper than 700 feet, with thick soft compressible clay deposits. Working for the NY State Thruway Authority, MRCE leveraged decades of geotechnical engineering and marine foundation design knowledge and expertise to abate the significant risks and uncertainty introduced by the challenging subsurface conditions.
MRCE designed and executed a pre-bid Pile Installation and Load Demonstration test program, the first ever on a NY State Thruway Authority project. The MRCE pile test program reduced uncertainty in the design of the foundations, provided pile installation and test data to prospective bidders, which significantly reduced the risk foundation construction introduced to cost and schedule. MRCE provided design and construction oversight for the foundation of the new bridge.
Interesting Facts
Associate Partner Tony Canale worked on this project for nearly 10 years, from the initial EIS through the bridge construction. He will be the voice of the interesting geological information provided in the future Visitor's Center, which will be located in a plaza in the Exit 10 interchange.