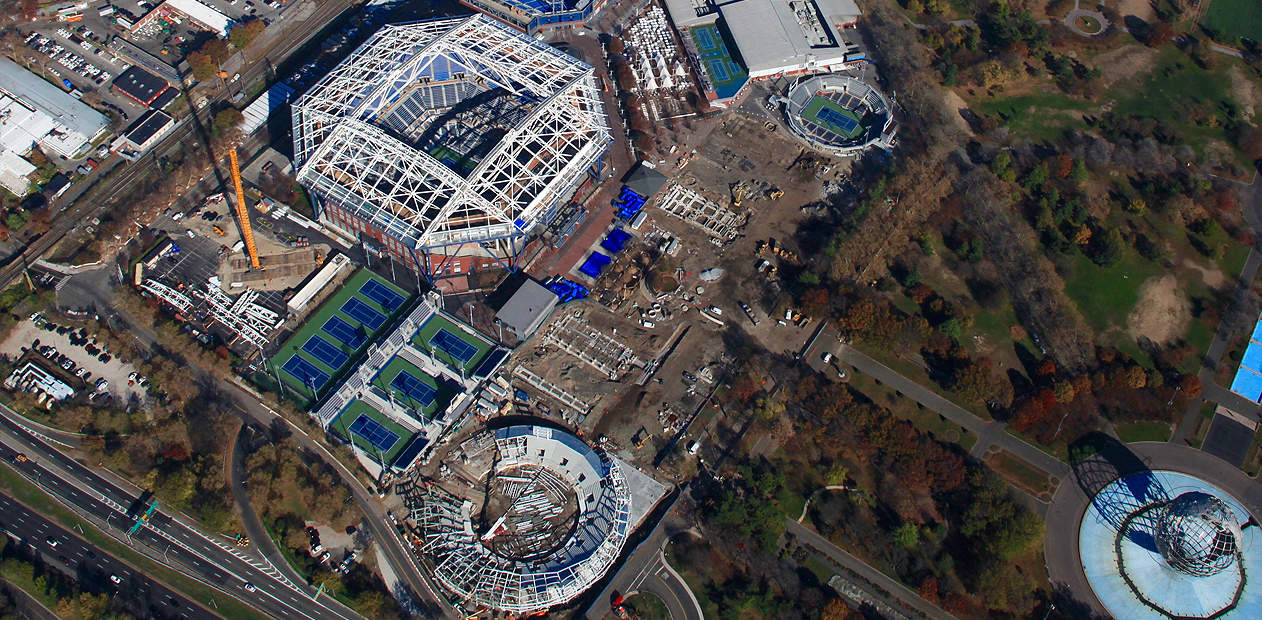 USTA Billie Jean King National Tennis Center
The United States Tennis Association (USTA) National Tennis Center is the largest public tennis facility in the world. The center is in the Flushing Meadows section of Queens, one of the most challenging sites in New York City to develop due to its poor soil conditions with deep, loose and potentially liquefiable fill soils overlying thick deposits of weak, highly compressible organic clay. Complicating foundation design, the site is within a deep glacial valley infilled with glacial sand of variable thickness and underlying thick deposits of varved soils consisting of thin alternating layers (varves) of relatively compressible silt and clay extending to depths of 200 feet or more.
MRCE developed a pre-construction load test program to evaluate driven pile alternatives including conventional cylindrical piles and tapered tip piles. The testing demonstrated that a tapered tip pile could achieve relatively high capacity at moderate penetration in the glacial sands and varved deposits due to the pile wedging action, resulting in improved economy relative to more conventional pile types.
MRCE designed foundations for the Arthur Ashe stadium, new field tennis courts and grandstands, and food and merchandise concession buildings for the 1990's expansion and more recently for the Strategic Vision Plan stadiums and the retractable roof over Arthur Ashe Stadium. The West Campus stadium projects were completed in 2014. The Arthur Ashe roof, the new Grandstand stadium, and South Campus stadium projects were completed for the 2016 US Open. Steel tapered tip piles were used to support heavily loaded stadium structures. Lighter structures are supported on shallow foundations supported in fill with lightweight fill replacement to mitigate settlement.
Interesting Facts
MRCE worked on the foundations for the 1939 and 1964-1965 World's Fair exhibits. The MRCE treasury of archived records was used to establish the extent and type of abandoned foundations to gauge their impact to new construction.