Infrastructure
Infrastructure work encompasses a wide range of project type and end uses, often requiring placement of unique structures with special foundation needs. MRCE has supported a wide range of complex infrastructure projects, including the Trans-Panama Oil Pipeline, an energy "utilidor" in New York City, sensitive data centers, water and wastewater treatment plants, force mains and pipelines. MRCE design skills have been leveraged for hydroelectric-nuclear-gas power plants, substations, power transmission lines, bridges, and highways.
Experienced MRCE leadership, with a lifetime of professional focus in geo-structures design, has often proved to be a substantial resource on challenging infrastructure projects. MRCE geotechnical engineers, well practiced in theoretical soil mechanics, are able to identify key geotechnical project risks. MRCE structural engineers, familiar with design fundamentals and geo-structural systems, develop efficient structural design solutions. MRCE geo-structure design professionals are ready to reduce uncertainty in your next infrastructure project.
---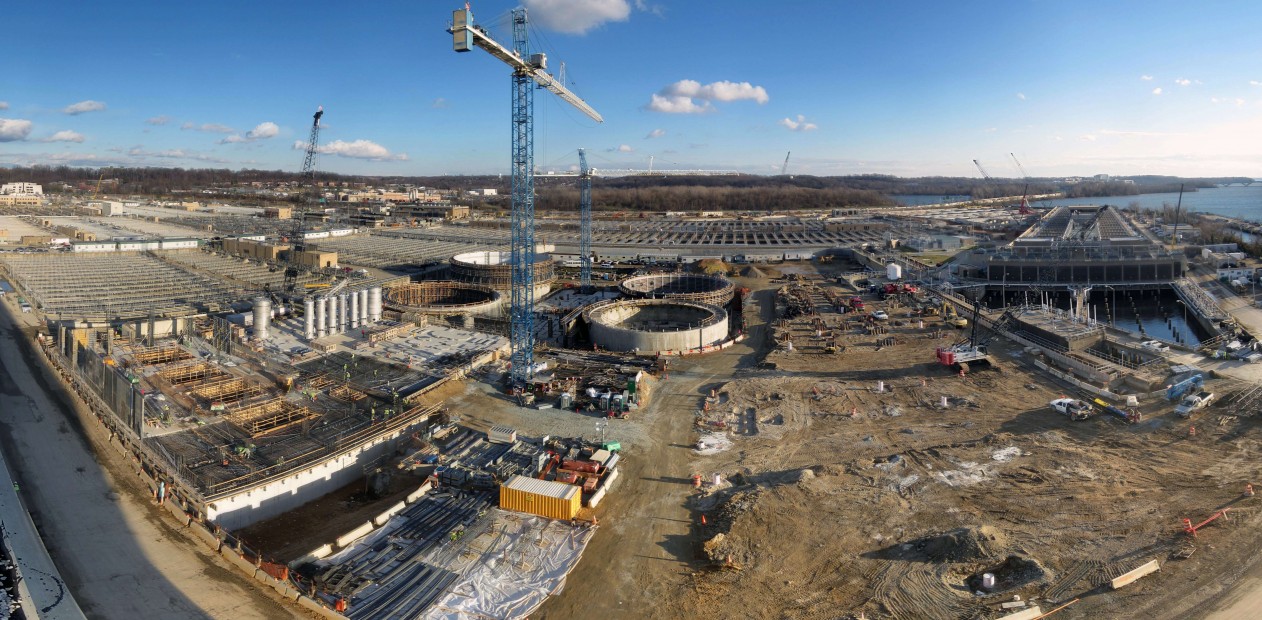 Blue Plains AWTP Enhanced Nitrogen Removal Facility
Challenges Solved
The DC Water Enhanced Nitrogen Removal Facility (ENRF) at the Blue Plains treatment plant required construction of a deep pump station, 37 million gallon capacity denitrification reactors, post-aeration tanks, and distribution channels. The site, on the shoreline of the Potomac River in Washington, DC, is underlain by compressible river silt, highly permeable terrace sand and gravel deposits, and high plasticity Cretaceous clay. Posing challenges to design and construction, the ENRF site was part of an excavation that remained from a 1970's Plant expansion which had significantly altered the natural soil stratification. An existing underdrain pumping system depressed groundwater levels below sea level for more than 30 years.
MRCE developed innovative and economic approaches to define and accommodate unique site features, including:
Performed geotechnical investigations using borings, in-situ testing, and pumping tests.
Prepared a geotechnical baseline report (GBR) to establish contract expectations and apportion risk in underground construction.
Worked with the contractor to design and test augered partial displacement piles.
Designed flood protection measures for the 500 year flood event, including a sheet pile barrier at the Potomac River and raising grades above the flood elevation.
Developed specifications and work plan for cement stabilization of poor quality soils for use as controlled fill.
Designed surcharge and wick drain program to improve compressible clays.
Assisted in design of new underdrain system and pump station.
---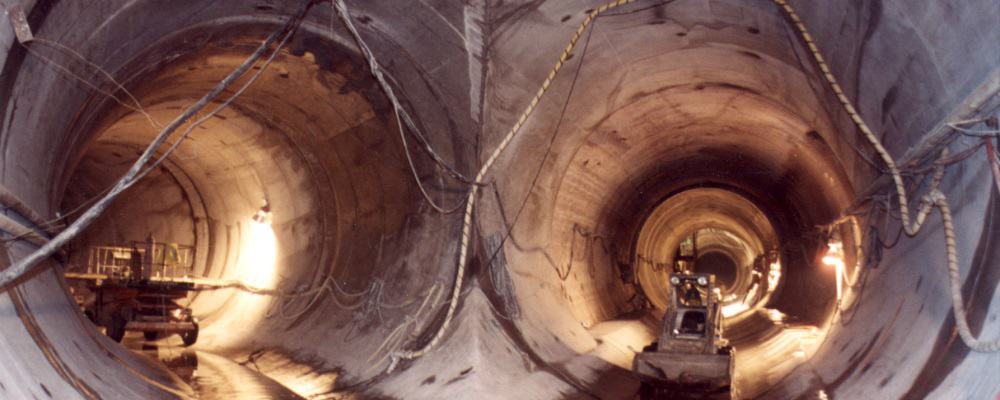 Harbor Siphon Tunnel
Challenges Solved
The New York City Department of Environmental Protection (NYCDEP) constructed a water siphon to replace two aged siphons beneath Upper New York Bay between Bay Ridge, Brooklyn and Stapleton and Tompkinsville, Staten Island. The project was stalled in October, 2012 when the tunnel was flooded and the TBM was damaged.
MRCE performed subsurface investigation, design the slurry wall and bracing for the launch shaft and designed a rapid deployable tunnel plug to prevent future tunnel flooding.
---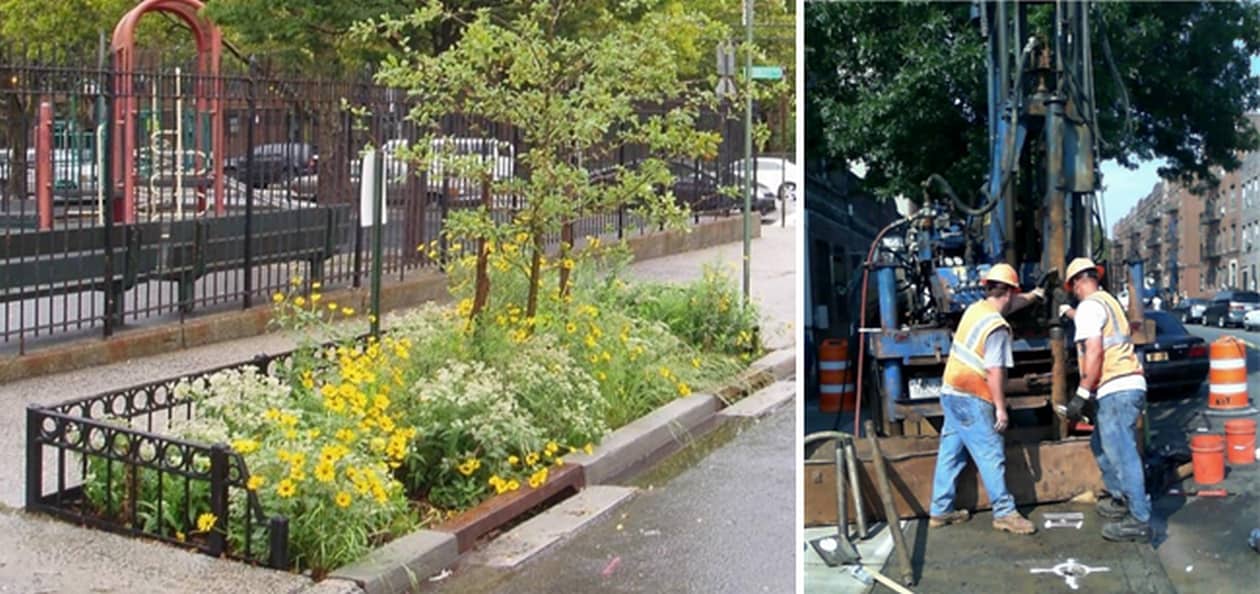 New York City Green Infrastructure Bioswales
Challenges Solved
As part of NYC's green infrastructure initiative, bioswales are being constructed within streets and sidewalks and on building sites across all NYC boroughs. Bioswales fit easily into the environment while they collect and absorb stormwater, manage runoff, and reduce the volume of water entering the Combined Sewer Outfall (CSO) system, which had been overloaded during rain events. The main project challenge is to determine the appropriate location for each bioswales. To do this, hundreds of sites are investigated and analyzed, and recommendations are made about which are the most appropriate sites to construct the bioswales. MRCE has provided geotechnical services for the investigation of over 4000 bioswales locations for New York City agencies such as the Economic Development Corporation (EDC), Department of Environmental Protection (DEP), and the Department of Design and Construction (DDC). Often performed as part of large on-call or task order contracts, MRCE has also completed smaller investigations for On-Site Bioswales, which are generally performed for the Housing Authority (NYCHA), Department of Education (NYCDOE), Parks and Recreation and Department of Transportation (NYCDOT). MRCE planned and performed the subsurface exploration program for each of the proposed sites, including drilling and permeability testing, inspection, oversight, lab testing, and reporting of results and recommendations for final bioswales locations.