Emergency Response
MRCE engineers respond to geo-structure related emergency situations such as foundations, support of excavations, dewatering and waterfront structures. The geo-structure engineering practice is fraught with unforeseen ground conditions, underperformance, unexpected movements and effects on adjacent structures. Whatever the case, MRCE is your reliable partner during these difficult times. MRCE's rich emergency response experience range from assessing the condition and performance of the slurry walls around the World Trade center after 9/11, evaluating the condition of the World Financial Center pier after it was struck by the emergency landing of a plane in the Hudson River, to performing emergency home inspections immediately after Hurricane Sandy for the NYCDOB. Let MRCE leverage its experience, use its treasure trove of geotechnical information and the inventiveness of its engineers to quickly assess, recommend solutions to your emergency related situations.
Other emergencies MRCE can serve as your reliable geo-structure engineer include:
Claim Support

Often times, geo-structure projects result in claims for various reasons. MRCE can provide you with claim support services. Our claim support service includes an objective evaluation of the claim based on the available documentation both from the design and construction phases, analysis of the claim and our conclusion as to the merit of the claim.
Forensic Analysis

Where failures occur such as excessive structure settlement, support of excavation deflection or instability, rock slides, slope stability issues or excessive dewatering, MRCE can provide you with state of the art geotechnical and soil-structure modelling to determine the failure mechanism, and identify the likely cause of the failure. Our forensic analysis is critical in evaluation of potential fixes of the situation.
Expert Witness Testimony

MRCE Engineers are qualified to testify in experts in most if not all geotechnical and foundation related cases. With over 100 years of experience in the geotechnical market, and extensive experience to draw from, MRCE is your reliable partner when you need an expert witness.
Mediation and Litigation Support

MRCE has participated in numerous mediation and litigation cases over its history. MRCE prides itself on its nuanced knowledge of geotechnical and geo-structure related designs, its objectivity and understanding of geotechnical issues to help bring mediation and litigation cases to conclusion.
---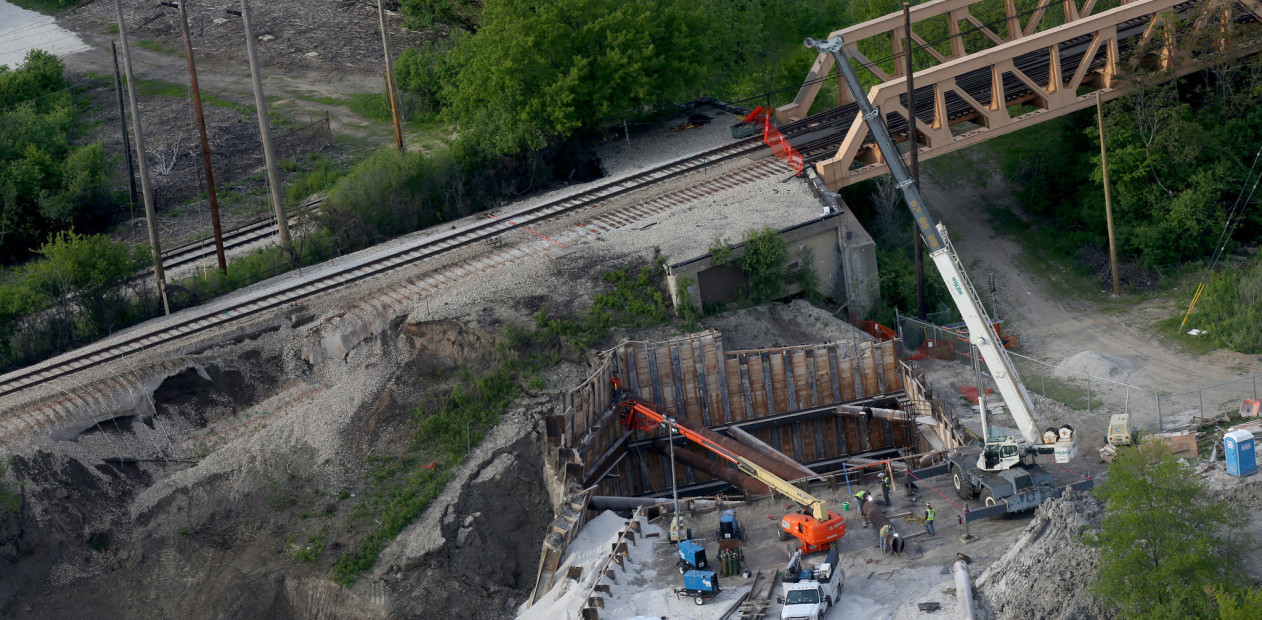 Slope Collapse and Reconstruction
Challenges Solved
When an unsupported earth slope failed in Skokie, IL in 2015, the rails of Chicago's Yellow Line commuter train were undermined, and an adjacent braced cofferdam collapsed. MRCE was immediately called in to investigate the cause of collapse and restore rail service. MRCE geotechnical services included CPT probes, borings, and laboratory testing of embankment and natural clays, forensic investigations and analysis of the slope, slope stabilization with sheet pile, slope reconstruction with cement stabilized slide debris spoils, and rail bed preparation. MRCE structural services included design of structural bracing connection improvements and construction stages for a second cofferdam which did not collapse, and forensic inspection of damaged structural elements from the first cofferdam on removal. MRCE track reconstruction designs were reviewed and approved by the Chicago Transit Authority; the cofferdam revisions were reviewed and approved by the Metropolitan Water Reclamation District of Greater Chicago.
---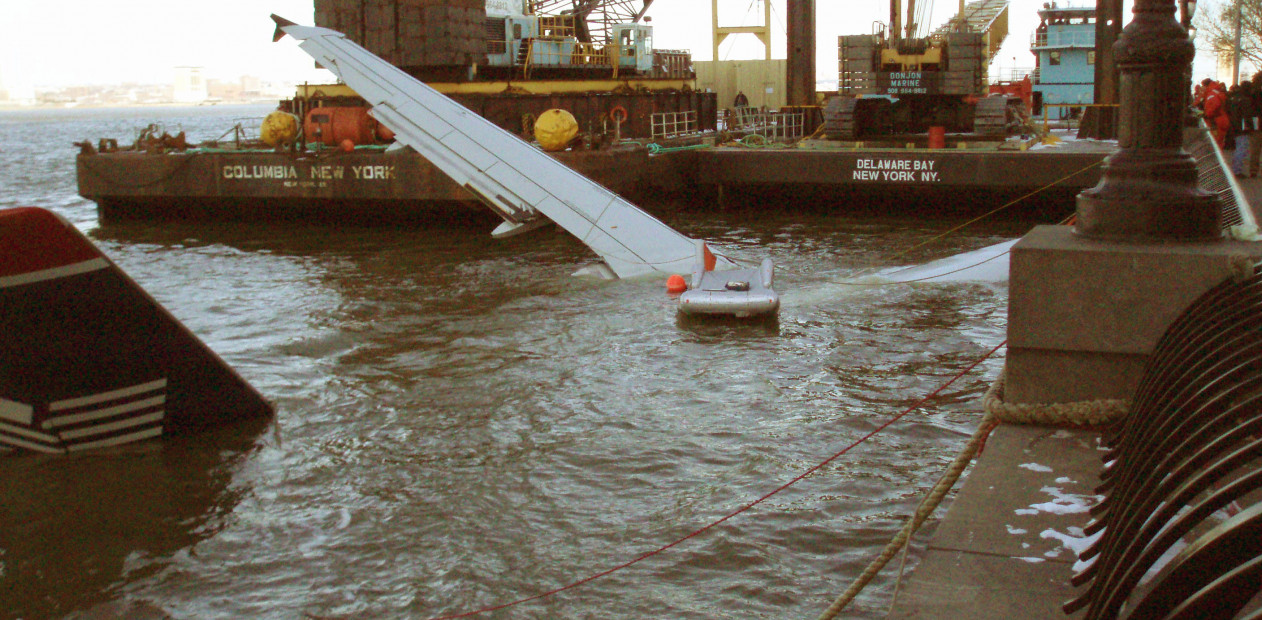 Emergency Services for the "Miracle on the Hudson"
Challenges Solved
MRCE continues to be involved with Battery Park City, a 92-acre development created in lower Manhattan in the Hudson River, since its inception in the 1970s until today. The spectacular emergency landing of the US Airways Flight 1549 on the Hudson on Jan 15, 2009 -- often called the "Miracle on the Hudson" -- involved MRCE's emergency services when the floating plane drifted downstream and impacted the relieving platform that supports Battery Park City. MRCE engineers were called in to assess the potential damage to the relieving platform, an evaluation that was crucial to determine if the structure could be re-opened to the public.